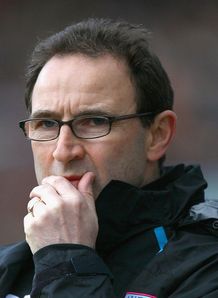 We've said our share of nice things about Aston Villa this season. We've had every reason to--the club has performed above and beyond even the most optimistic forecasts and currently sit third in the Premiership. Think about that for a second. Third! In the Premiership! At the start of the season talk that anybody could break the Big Four was deemed sheer lunacy (though some pundits seemed to think Tottenham Hotspur could be up to the task. Talk about lunacy!). But here are Martin O'Neill's men showing up everybody but Man United and Liverpool and restoring order to The Force.

It had the makings of a great story. Alas, much like Episodes I-III (I can't stop with the Star Wars analogies now) its potential may be overshadowed by the end product. Over the weekend Villa were soundly beaten by Everton to exit the F.A. Cup and earlier today they drew CSKA Moscow 1-1 at Villa Park in the first leg of their UEFA Cup tie. Needless to say, a team that cannot defeat CSKA Moscow on their home grounds has no business being ranked with the top clubs in the world. But we'll probably keep them there this week anyway. After all, they may win the return leg and advance.

But even if they do, color us cautious on the whole Villa story. It was nice while it lasted, though.

To be fair, Villa weren't the only club to disappoint in tonight's UEFA Cup action. What were we thinking putting Olympiakos in the Top 25, for example? They lost 3-1 to St. Etienne, at home no less. This isn't 1970s era St. Etienne but a team that has spent most of the last two decades outside the top flight and is currently languishing in 18th place in France's Ligue Un. It appears Olympiakos has a habit of playing down to its opponents (remember these are the same guys who lost the Champions League qualifier to Anorthosis Famagusta). Sure, they could make up the two goal deficit in the return leg. This is St. Etienne we're talking about. But things are off to a very bad start for the Greek side.

Valencia didn't impress either, playing Dynamo Kiev to a 1-1 draw, though like Villa they might have done enough to clinch advancement in the return leg. Unlike Villa, however, the Spanish club gets to host that match in a week's time. So does AC Milan, which will be coming off an identical 1-1 result from its first leg match at Werder Bremen.

Really, the only impressive results were Paris Saint Germain's (2-0 winners over Wolfsburg, who sit sixth in Germany's Bundesliga) and Aalborg's (3-0 win over Deportivo La Coruna, who are eighth in the Spanish liga). PSG has been on the radar of the Top 25 ranking committee for some time. Is this enough to move them onto the list? You'll have to wait until Monday to find out (assuming they beat Grenoble on Saturday. If they don't you can forget about them making the Top 25). Aalborg has been a tough one to judge so far. They're sixth in the Danish league, which is only marginally better than being sixth in MLS but they managed to finish third in a tough Champions League group (alongside Man U, Villareal and Celtic).

Nobody should be surprised that Metalist Kharkov won at Sampdoria. The Genoa club are having a horrible time of it this season and sit 15th in the 20-team Serie A. Kharkov, meanwhile, beat Benfica Lisbon, Olympiakos and Galatasaray in the group stage, while also drawing Hertha Berlin 0-0. They sit second in the Ukrainian league, behind (you guessed it) Dynamo Kiev. That may be enough for inclusion in the Top 25 next week. We'll see.

Photo taken from Sky Sports without permission.