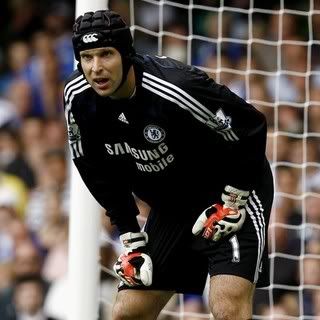 Some superb saves from Chelsea's Czech backstop Petr Cech kept Barcelona off the score sheet at Camp Nou last night. Blues didn't score any either (done in by some key saves by Cech's counterpart Victor Valdes) putting Guus Hiddinck's team in a good position to advance to the UEFA Cup Champions League final when the two sides meet again at Stamford Bridge next week. We at Soccer Source treat these two-legged affairs as 180 minute games and while we like what we saw from Chelsea in the first half, we still view Barca as favorites to advance (and not just because of their higher rank in the Top 25, though that clearly does factor in).

Which does not mean it will be easy. Barca will be without defensive anchor Rafa Marquez, who left the game with an injury. Carlos Puyol, who replaced Marquez in the 52nd minute, picked up a yellow card and also will miss the return leg as a result. So Pep Guardiola's men could be severely short-staffed defensively, which also plays into Chelsea's hands. We view the narrower confines of Stamford Bridge as a further handicap to Guardiola's free-flowing brand of soccer.

But let's not forget the pressure is now on Chelsea to score, which could put Blues exactly where Barca wants them--vulnerable to counter-attack. It will all depend on how the blaugrana deal with Chelsea's pressure. Scoring goals has been a bit of an issue for Blues lately (just one in their last three games). So don't book that trip to Rome yet, Chelsea fans!