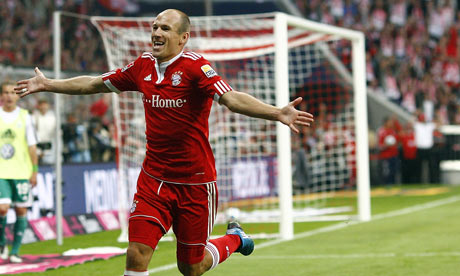 The first real soccer weekend of the 2009/2010 season is only half over and it may already be time to revise our Top 25. We were soooo convinced of AC Milan's ascendancy (and equally convinced Inter Milan didn't have it this year) but today's meeting between the two sides reflected the exact opposite. Manchester United was supposed to be in trouble; Arsenal a team on the rise; Real Madrid virtually unbeatable. We raved about Wolfsburg and fretted over Bayern Munich, yet earlier today Bayern won the clash between the two sides by 3-0.

Time to rethink those premonitions? Yes and no. First of all, soccer is a results business. Real Madrid's 3-2 victory over Deportivo La Coruna may not have been by the margin (or with the style) one might expect from a team that spent $350 million improving its roster, but three points are three points. Incorporating all those stars into a cohesive unit is going to take time; no way around that. If Real can get results while they do this, the less pressure they'll be under as the season rolls on. Eventually, they may even dazzle us.

After impressing us in their season-opening 2-1 victory at Siena last week, AC Milan disappointed on every level in today's derby with Inter. In many ways the 4-0 score might have even flattered the rossoneri. Sure, Milan went down a man early, but even then they were already down two goals. This game should serve as a wake up call to Leonardo's men, who looked particularly vulnerable defensively (very un-Italian, that). It should also result in a starting spot for Oguchi Onyewu the next time out, which isn't until two weeks' time at Livorno.

Bayern Munich simply needed to win today's match with Wolfsburg and German clubs (particularly its most famous) sometimes are most effective when forced to summon their iron will. Then there was the emergence of a certain Arjen Robben, who scored not once but twice on his debut--and that after coming on as a second half sub. Seems the Dutchman is exactly what the Doktor ordered for the Bavarian side. Figure them to break the Top 25 in its next edition. But two tough road matches await Louis van Gaal's side: Borussia Dortmund Sept. 12 and Maccabi Haifa in the Champions League opener.

That leaves us with Man United and Arsenal, a game that--to be frank--was not won by the better team on the pitch. Arse should have scored more than once in the first half and were unlucky to not get a second shortly after halftime. Rooney's penalty equalizer was the turning point but even then the winning goal was a gift from Abou (Terence Trent) Diaby. Two points can be taken from this game: 1. Sir Alex Ferguson's clubs find ways to win even when they are outplayed and 2. Arsenal still lack the necessary experience and leadership to put teams away when they are on the ropes. Gunners may very well be able to correct this second item in the weeks and months ahead (it's a long season, after all) but so far it's more of the same in the English Premier League.

Elsewhere in England, Liverpool needed a second half comeback to win at Bolton, Chelsea had absolutely no problem with Burnley and break out Tottenham Hotspur! A word of caution on that last one: Excited as we are about Spurs' uncharacteristic (if not unprecedented?) fast start to the season, today's victory was far too close for comfort for us to get truly optimistic about Tottenham's chances over the long term. Sure, a Europa League spot is definitely in the offing, but breaking the Big Four is not something that should be discussed in serious terms. Though if we win our next two league games (Man United at White Hart Lane and Chelsea at the Bridge) that can be revisited. But that's one (actually two) big, big ifs. Especially now that the element of surprise is removed.

Photo taken from Guardian.co.uk without permission.