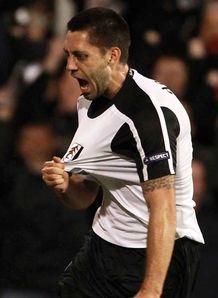 Clint Dempsey's super goal (click link for YouTube video) put Fulham FC past Juventus in the return leg of their round of 16 Europa League matchup yesterday. From an American point of view, the dramatic goal re-establishes Dempsey as a first rate star after a lengthy break from injury. It also sheds any remaining doubt on whether he will be ready for the World Cup in June. He will be ready and England, whom the U.S. face June 12, should be afraid, very afraid. But with the European club campaign now in high season, these are all secondary concerns at this point.

The Juventus match-up will likely turn out to be the last real continental challenge Fulham get for some time due to the gift Roy Hodgson's side today received from the Union of European Footballers Associations (UEFA). The gift is a spot in the Europa League final, May 12 in Hamburg, Germany, where Cottagers will likely face Benfica Lisbon (if the latest Soccer Source Top 25 is any guide).

All Fulham need to do in return is defeat a pair of mediocre clubs in the quarterfinals and semis. But this task is so easy, all that can be said at this point is this: The only way Fulham will not play in the Europa League final is if they beat themselves.

I exaggerate somewhat, but not much. Let's take a look at Fulham's first opponent for the quarterfinals, VfL Wolfsburg. Yes, the "Wolves" are defending Bundesliga champions and were in our top 25 at the start of the season. But this is a club that sits eighth in the German Bundesliga, which is an extremely top-heavy (and frankly somewhat mediocre, at least at this point) league. They did end up in a tough Champions League group with Man United, CSKA Moscow and Besiktas Istanbul and to their credit didn't finish last. But in the first round of the Europa League elimination draw they lucked out with Villareal, who are having an absolutely horrible season. And their defeat of Rubin Kazan, who were ranked 14th in our Top 25, probably would not have happened had it not taken place when the Russian league was barely out of preseason. This is a club (Wolfsburg) that has this season lost home games to the likes of Cologne and Nurnberg--as well as to Bayern Munich, VfB Stuttgart and Man United, among others. Whatever. The point is Wolfsburg should not be a problem for Cottagers.

Next up they'll face either another German club, Hamburg SV, or Standard Liege from Belgium in the semifinals. Again: both mediocre clubs from mediocre leagues (or worse in Standard's case). Hamburg's Bundesliga campaign was not unlike Wolfsburg's, though marginally better (they sit fourth to Wolfsburg's eighth). Their European season kicked off with a 3-0 defeat to Rapid Vienna. They have a few "quality wins" to their credit, but this was against clubs (PSV Eindhoven, RSC Anderlecht) that were marginal top 25 sides at best. They'll put up a fight against Fulham (these are Germans, after all) but should not be able to advance at Cottagers' expense. Again, unless Fulham let them.

One could make the point that Fulham would be contenders for a Champions League spot in virtually any league other than the Premiership. Hodgson's team were every bit Roma's equal in the Europa League group stage, drawing the Italian side at Craven Cottage and losing at the Stadio Olimpico after a 1-0 halftime lead. Roma are third in Serie A. Fulham bested defending Europa/UEFA League champs Shakhtar Donetsk and of course defeated Man U and Liverpool earlier this season. Oh wait, everybody's been beating Liverpool this season. Well, the Man U win was impressive.

Of course once they make the final things could get a bit more difficult. Benfica are arguably the best non-Champions League club this season. The team we deem the ninth-best in the world at present is also our pick to take home the first ever Europa League trophy. Then again, with Dempsey at peak form anything is possible. Even some European silverware for the Craven Cottage trophy case.

Photo taken from Sky Sports without permission.