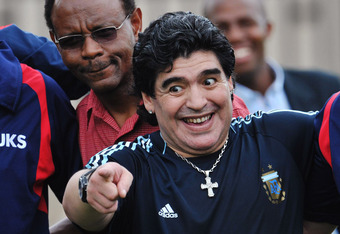 Few people would mistake Diego Armando Maradona for a sane man. That has been clear for some time now--probably since he first entered the public conscience nearly 30 years ago.

How else to describe somebody who supports the political regimes of Venezuela, Cuba and Iran (while dodging taxes, or maybe that was at a different point in his life) and who nearly ate, drank and coked himself to death on several occasions?

So none of us really need proof this guy is completely off his rocker. But just in case, he offered further evidence today when he named the Argentina squad for the 2010 World Cup.

How else to explain a 23-man squad that features Juan Sebastian Veron (yes that one), Martin Palermo and Ariel Garce?

If you haven't heard of the last one you aren't alone. He's a 30-year old defender who played his entire career for Argentine clubs. Seriously, how good can you be if NO European club EVER took as much as a look at you?

Speaking of which, three clubs have more than one representative on Maradona's team. One is Inter Milan. Can you guess the others? If you said Barcelona or Real Madrid or even Olympique Marseille you were WRONG. The correct answer is Estudiantes and Colon. The latter, along with their unfortunate name, will be fortunate to finish in mid table in the Argentine Clausura league this season.

Admittedly, we should have known something was up when Maradona named a 30-man provisional squad that did not include Real Madrid's Fernando "Lady" Gago or Barcelona's Gabriel Milito, among others.

It's one thing to go for experience. But with Javier Zanetti and Esteban Cambiasso Maradona had far better qualified options on that end.

I mean Juan Sebastian Veron? I didn't even know this guy still played!

Then again why should anybody really care about this? The worst thing that can happen is if it somehow actually works and Maradona is declared a genius rather than the psychotic lunatic he is in reality.

Then again what are the chances of that happening?

Photo taken from BleacherReport.com without permission.