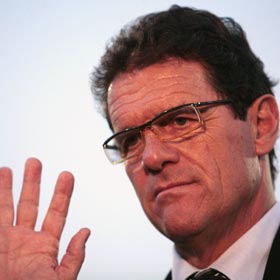 With Fabio Capello reportedly set to take over the England manager job vacated by Steve McClaren, now is as good a time as any to close two concurrent polls Soccer Source has been running for the past fortnight. The polls asked readers to predict where England will finish in their qualifying group for the 2010 World Cup and inquired if the Three Lions "will win a World Cup or European Championship in your lifetime?"

I originally intended the mini survey to gauge England fans' moods after their team's historic collapse against Croatia. But it soon occurred to me that this method was flawed on several levels: there was no way to limit participation to England fans and the "your lifetime" bit was by definition subjective--and potentially self-fulfilling, if particularly distraught fans decided to take their lives into their own hands in the near future (a very real concern, judging by what was portrayed in the country's media. Talk about self-fulfilling. How can you not contemplate suicide after a steady diet of that stuff?). More importantly, there was no way to put the results into context, by for example comparing them to the views of other countries' fans.

I'm glad this is a blog because it's getting really long-winded. No serious editor would put up with this crap. Wait, where was I? Oh yes, the polls. Well, I'm closing them now. I'm sorry if you didn't have a chance to vote but if you feel so inclined you can post your views as a comment. For what it's worth, nearly two-thirds of respondents think England will qualify for the next world cup. Twenty seven percent even believe they will do it by winning the group outright. Thirty four percent think England will go through after finishing second and winning the playoff. Twenty one percent see England finishing second and failing to qualify and only 16% think they will finish third or lower in the group (then again the group is really weak).

As for the second question, one-third of respondents (incidentally the same percentage who envision England failing to qualify for South Africa) think England will win a World Cup or European Championships in their lifetime. Again, I don't know how old these people are or what their life expectancy is but I'm willing to bet this number is lower than it would have been a generation or two ago. On the other hand, it's not as low as one might expect, especially in light of the team's recent travails. Think about it: an individual 25 years old can reasonably expect to live through 20 more such tournaments in his or her lifetime (assuming they live to 65 and both tournaments continue to be held every four years). Since World War II, there have been 15 World Cups and 13 Euro Championships (I'm counting next year's, which England will not win for obvious reasons). Twenty eight such tournaments, of which England has won a single one. And it's not like they were close for the others either, making it to only three other semifinals (1968, 1990 and 1996). On that basis, I see little reason to be optimistic. Then again, past patterns rarely work as accurate indicators of future results. By that measure, England are in the driver's seat.